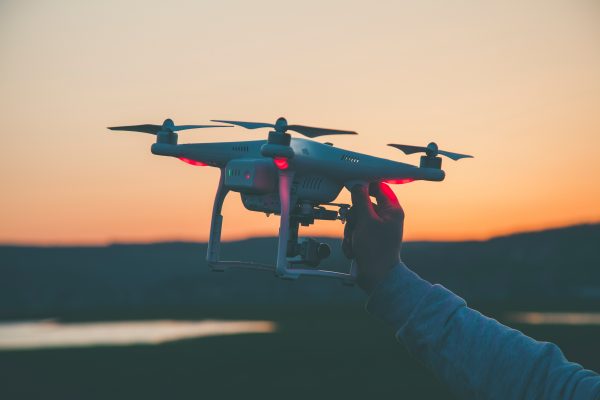 2019 brings with it updates to existing technology with new uses for various industries and continued development in the fields of AI and machine learning. 
Drones
It's time to stop thinking of drones as a cool toy, (which they still are, by the way), and time to start thinking about how they're going to be absolutely everywhere in the future.
Top tech lists for consumer shopping websites now include a "Best Drone on the Market' category as standard, and with the costs of quadcopters becoming ever more affordable, the drone is becoming a default tool for filmmakers, photographers and even adventure sports fans.
But it's in business where we're seeing drones start to become more widely used, with companies in sectors from insurance to disaster relief to entertainment making use of them for everything from surveying inaccessible landscapes to drone powered syncronised aerial light shows.
Security Robots
A 2013 study from Oxford University predicted that the role of security guard could be one of the jobs most likely to be lost to automation in the next twenty years. While we haven't seen this happen yet, 2019 will see further developments in the field of AI powered robots and vehicles and the security sector will remain a large part of the customer base for these automatons.
Many global companies are already using robots as passive security guards, and in parts of the US they are a common site at company headquarters, gas stations, car parks and shopping malls, scanning car registration plates as they 'patrol', and filming areas already liberally sprinkled with static CCTV from new angles.
While these robots aren't anywhere near replacing human security personnel yet, they are proving to be efficient and cost effective for routine patrolling and reporting, and the trend is beginning to trickle down to consumers with the rise of app-powered home security cameras and devices which allow us to monitor our houses from any location.
Securing Smart Homes and the Internet of Things
In the earliest days of IoT, a large section of the public voiced concerns about the idea of having corporate controlled 'intelligent' tech in the ultimate private sanctuary, their home. Fast forward to the end of 2018 though, and the majority of people are happily enjoying the ease of the smart TV, voice activated personal assistants and smart home thermostats. It turns out we are prepared to trade some of our concerns about marketing for the convenience of automated entertainment.
However, the security of fully incorporated IoT homes remains a concern, with people starting to realise that a fully connected 'smart home' incorporating large numbers of wi-fi enabled gadgets can pose a big risk to security as every connected device can be vulnerable to cyber attack. 2019 is likely to become the year that the average consumer starts to take this risk more seriously.
AI and Machine Learning
This might sound like the most futuristic subject, and most of us will happily think that it has 'nothing to do with us'. But machine learning and AI technology is already forming the power behind a lot of the everyday technical concepts and solutions we already take for granted, like the algorithms that suggest we play a music track or our next recommended TV show on Netflix.
Christmas 2018 is likely to see home assistant devices like Alexa and even Nest thermostats  enter huge numbers of homes, and the data they quietly collect will be used to educate the algorithms for the next generation of AI powered home and portable devices.
Machine learning is also quietly supporting the millions of photos and videos that will be shared during the December festivities, with everyone from Google and Facebook to niche software development agencies making use of machine learning powered technology to drive new innovations in image recognition across web and app development in 2019.