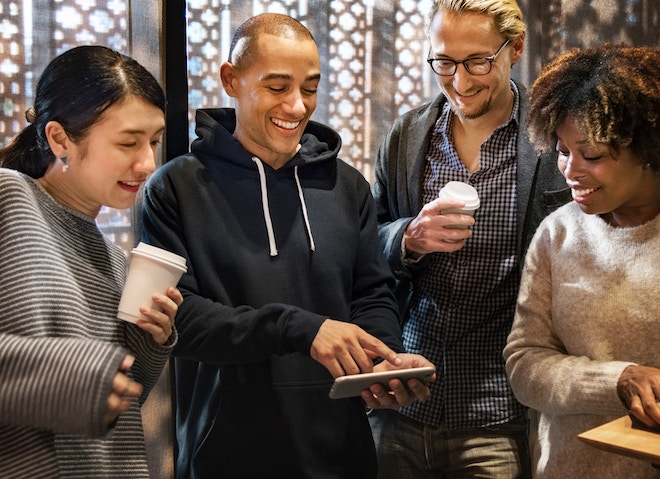 Social media has given brands the opportunity to connect with their customers in a new way. Brands now have the chance to help customers with problems on these platforms, as well as receiving feedback, positive and negative. What should you do when you're receiving negative comments on social media? Should you ignore them? Delete them? Responding to comments on social media can be difficult to navigate – if you don't have a plan. With some planning and anticipation, you can make your responses much more effective.
Anticipate problems before they arise
Having a plan and anticipating problems will make your job much easier. Quite a few comments will be simple to answer, including confusion over prices and technical issues. For these common inquiries, it is wise to have some pre-fabricated responses. This way, you aren't wasting time repeatedly writing out a response addressing the long wait to register, or a common technical problem. Another way to deal with common questions is to have a good FAQ page that you can share a link to. Be proactive about sharing this page and making it readily available to people, and you will pre-empt quite a few comments and questions. Be prepared for the unexpected by developing a crisis management plan. If things go awry, you don't want to be scrambling to conduct some damage control, you want to be in a position where you know exactly what to do. Who approves the responses in these situations? Who is the alternate if someone is unable to make it in one day? Have a plan in place that allows you to reach out to your audience and respond in a constructive and possible way when things go wrong.
What should you respond to?
It's not necessary to respond to every single piece of feedback. Certainly you should respond to negative feedback, questions, and exceptional feedback. But don't feel as if you need to respond to every like or retweet. Questions and complaints should be your main focus. Don't delete negative comments, respond to them in a timely fashion. Stay calm and respond in a neutral way. Remember to follow up if they respond to your initial reply. Responding to negative comments is important, deleting or ignoring negative feedback reflects poorly on your brand. It comes off as you not being able to handle criticism, and silencing your customers. It's important that you respond in a constructive way. This isn't just about the person you're responding to directly, it's also about everyone who scrolls by and sees the way you've handled feedback.
Responding publicly or privately?
Most of the time when receiving negativity you will want to take the discussion private as soon as possible, but there are exceptions to this rule. For minor issues, and for people who are not noticeably upset, it's okay to respond publicly. These kinds of public replies should be viewed as a good opportunity to demonstrate that your brand is good at helping people and prioritizes excellent customer service. Another situation in which it's a good idea to respond publicly is when a user is making unfounded accusations about your brand. If you handle these situations privately, you leave the accusation there, unaddressed. And that can look very bad. You can either write your rebuttal and suggest continuing on the conversation in private, or conduct the discussion entirely in public. Sometimes you need to use your best judgment. Generally, if a person is irate, and it seems like the situation is likely to escalate, it is time to deal with it privately. Begin with a public reply, asking the user if they would like to talk about the matter privately, so that people don't think you are ignoring the complaint.
Taking a moral stance
Having the appearance of being a brand that takes a stand on a moral issue can be a good thing. The risk is that you could alienate part of your audience; the reward is that you create a much stronger bond with your followers. One common situation is brands adopting a rainbow flag filter as a way of showing their support for the LGBT community and Pride Week. American Airlines adopted this filter, and dealt with their negative feedback in an interesting way. Their was simply, "We're sorry for your disappointment."
This maneuver was a pretty adept way of maintaining their moral position, while also avoiding arguing and escalating with the commenter. The way your brand responds to these kinds of situations will depend on your values and customer base. It's not necessary for brands to take moral stances, but it's good to know that it can be done without escalating and alienating.
Should you use humor?
Whether you use humor depends on the situation you're dealing with. Humor can be a great way to show the lighter side of your brand, but you should only use it if you're confident it will be taken well. Look at the comment and decide, based on the tone of their writing, if they will be receptive to a humorous response. If you have doubts, just play it safe with a serious reply. Always be sure to stay positive; even if the commenter is attacking you, take the high road. You will reflect very poorly on your brand if you engage in aggressive and negative responses. A brand lives and dies by it's public image, so it's important not to come off as petty or immature. Represent your brand in accordance with its messaging, personality, and values.
Should your delete comments?
You should not delete negative comments, it will not help. Often deleting a negative comment will just encourage the person to comment again, getting even more frustrated. Deleting comments can also create the impression that your brand cannot handle criticism, and so engages in censorship. Having some negative comments on your page can actually be a good thing. It shows that you can handle feedback. If your pages are completely devoid of negative posts, your brand can look disingenuous, and that's not good either. Some people will suggest asking the commenter if you can remove their complaint once the issue has been resolved. Generally this is a not a good idea, because of the reasons previously stated.
Good writing skills help you respond well to comments
When you're responding to social media comments, it's important to keep the communication clear. Poor writing and proofreading can lead to further miscommunication and frustration for a commenter. Fortunately there are many solid online resources that can improve your writing abilities.
ViaWriting

and

SimpleGrad

: Use these online tools to get yourself up to speed on your grammar. Grammar is important for clear communication and properly responding to social media comments.

MyWritingWay

and

WritingPopulist

: These writing guides will make your job easier by providing you with all kinds of tips for responding to comments. They can make your job less stressful.

Let'sGoAndLearn

and

Studydemic

: Check out these content writing communities for ideas and advice on replying to comments.  
Learning from complaints
Don't ever lose sight of the fact that receiving negative comments is a good thing. They let you know where you have some deficiencies that need to be addressed, and help you get to know your customers better. After all, you would rather have someone complain and give you a chance to rectify the situation, then to just simply leave. Of course, there will always be trolls who just post negativity, but the majority of negative feedback you receive can be seen as an opportunity. A complaining customer is one who is giving you a second chance to make things right. If you take advantage, you can turn an unhappy customer into one who is loyal to your brand. It all depends on how your team handles the feedback. Don't let negative comments bring you down. Keep in mind that for every negative comment there are many completely satisfied customers. People are a lot more motivated to bother saying something when they are displeased than when something meets their expectations.
Conclusion
Social media has brought with it many opportunities for positive interactions between brands and their customers. But what do you do with negative commentary? The way you deal with this kind of feedback matters, and not just to the person you're dealing with directly. Your response, or lack of a response, speaks volumes about your brand and it's attitude towards customer service. It's important to have a plan when it comes to responding to social media comments.
Author bio:
Grace Carter is a content manager at BoomEssays writing service. She explores new content opportunities, connects with users and improves content quality.