Please note: Google My Business changed its name to Google Business Profile in late 2021.
Google is now one of the most effective marketing platforms for any business and is critical that it is optimised for success. Google My Business (GMB) is a free platform that lets you manage your business information through Google search results and on Google Maps. Every business owner should become familiar with this tool as it can help propel your business to the next level through the power of Google.
The platform is great for local SEO as people will look at Google search results and Google Maps for any local business near them when looking for a product or service. It contains all information about a business including the website, phone number, business address, hours, products and services available. GMB is an all-around tool that includes one of the most important aspects of any business online which is business reviews. Google reviews are imperative to any digital marketing strategy and it is vital to focus on receiving positive reviews to improve your business' reputation.
Did you know "near me" search traffic is increasing by over +800% MOM, for example: "bike shop near me"? The increase in "near me" search traffic reinforces the need for a high-quality Google My Business profile. Why? Because your GMB profile is typically found at the top of a Google search result once a "near me" search is completed. This is just another reason as to why GMB is vital for any business in today's digital world.
Table Of Contents
What Are The Benefits Of A Google My Business Listing?
Setting up a Google My Business listing helps give a business more exposure and can help increase the number of customers visiting your website, store location, starting a phone call or even making a purchase. The main benefit is giving customers a quick insight about what your business is all about and having all the relevant contact information. If your store has a physical location listed then it can appear in the map pack and on Google Maps which is a major advantage when users search for queries relating to your business. Google Reviews are also able to be left on your profile which can give potential customers a good reason to choose your business when they see all your positive business reviews. Most importantly it is free to use, so anyone can create a business listing on GMB and utilise all the great features.
How To Create A Google My Business Listing
The first step for any business owner to become relevant on Google is to learn how to create a Google My Business listing. This step cannot be skipped and needs to be done in order to start receiving reviews, map listings and improved search results. The process to create a listing is very easy and takes only a matter of minutes with all the right information handy. To set up a Google My Business Listing follow these easy steps:
Go to

business.google.com

Search for your business and if your business is listed, "claim" the listing. If it isn't listed, select "no these are not my businesses." 

Update the listing with your business information and make sure to fill in every field that is provided such as contact details and location (if applicable).

Add photos

Verify the listing
The final step of the process is to verify the listing, which can be done in a number of ways which are outlined below.
How Do I Verify My Business On Google?
To verify your Google My Business listing, you must complete the final stage of the setup process and proceed with the preferred verification method based on your business type. Google will decide which type of verification is best used for your business, which is based upon a number of factors like business category and age of the business to cut down the amount of illegitimate listings. The main verification methods that can be used are postal, phone and email.
Postal Verification
Verification by postcard is the most common method when verifying a GMB listing and is usually the only method available to be chosen. Make sure your address is displayed accurately so the postcard can be delivered to the business address. Google states that this should happen within 14 days, however as a result of COVID-19 the process may take many weeks. The card will have a unique 5 digit verification code that can be entered on the GMB account.
Phone Verification
Phone verification is eligible for some businesses and is sent through a verification code. Make sure the phone number in the business is correct. The code can be sent via text message if it is sent to a mobile phone number. A landline phone will receive an automated message verbally stating the verification code. Simply enter the verification code received by text or phone call within the GMB account online.
Email Verification
Another potential option is verification by email which is just a verification code sent to the specified business email address. Follow the instructions via the verification email to complete the process to start operating your GMB listing.
How To Optimize Google My Business
Once a Google My Business account is created, it still needs to be filled out with all the important information. This section needs to be as detailed as possible and there are many options that can be filled in about your business. The options are always updated to reflect changing times such as adding a COVID-19 policy in 2020. Learning what is most important to include and how to best optimize results in a GMB listing can be difficult.The simple information that must be included comprises the ways customers can access, contact and learn more about your business. These basic but vital details include the following:
Phone Number
Add the business phone number that customers can contact you on. It is important that this phone number is always in operation and switched on. This is often the first point of contact a customer will make when they come across your GMB listing.
Website
Add the URL of your website where customers can quickly click the link to your site. It is recommended that the homepage is used as the link because users can then browse on from there. This is unless there is a specific landing page that is used for web other than the homepage.
Hours
The business hours that your business generally operates each day of the week should be listed here. It is important that this is correct as many customers will rely on the information here because it is often the best way to find the opening hours of any business. You can also add multiple hours across the day and split these up if you operate with a break in the middle of the day for example.
Business Location
This section should include the main address where your business operates so customers can visit. Google states that "Business Profiles on Google My Business can only be created for businesses that either have a physical location that customers can visit, or that travel to visit customers where they are". It is vital that this is correct and includes notation such as unit number or floor level so customers can find you easier.
Description
The description section should be filled out to give readers a brief overview of the business. It should include basic information like what the business is all about and what customers can expect. Adding keywords to your description may help, but there is no clear evidence showing that adding keywords leads to higher organic Google rankings.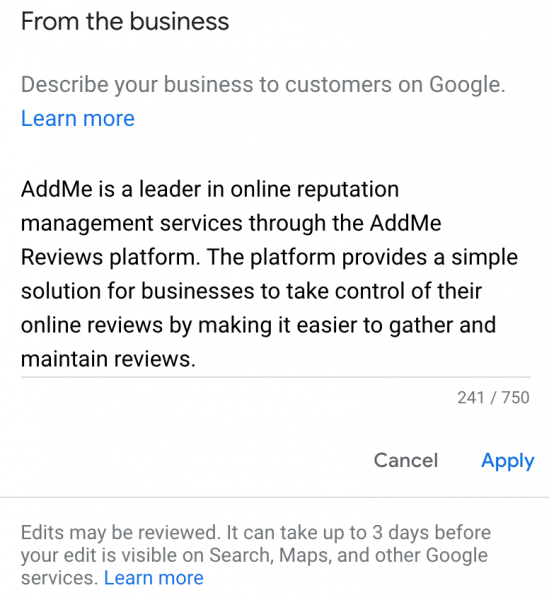 Categories
Entering business categories can help your business appear higher and more often in Google search results. This is one of the options that can have some impact on Google rankings, even if it is small they can still have a positive effect. The perfect category may not be available for your business, but it is still important to choose the most relevant category. This is so that it can appear in search results for the selected category. Additional details will appear depending on what type of category is chosen. For example, products or services can be added to a local florist business or a menu can be added to a local restaurant listing.
Products
Certain types of businesses can display some of the products that they sell on their GMB listing. Products can only be added for store businesses and it will make sense when a business should add products to this section or not. Adding products has no correlation to improved Google rankings, but can still assist customers make a purchase decision when your business appears.
Services
Services are similar to products and can be broken down into each service that a business offers. Including services does not affect Google search results like products which is the same as with products. However they still assist customers who want to know more about your business and what is on offer to them.
Photos
Photos can be added to any Google My Business listing to better show off your business to potential customers. It can give a real insight into what the business looks like and what the products can look like. The different types of photos that can be uploaded are the business logo, business cover photo and other photos relating to your businesses products and/or services. There are certain requirements for Google My Business image sizes for each type which are listed below.
Google My Business Logo Size
The business logo should be added here so it can be displayed on Google to fairly represent your business. The size of the logo must be square in the format of JPG or PNG. The file size must be between 10 KB and 5 MB with a minimum resolution of 250 px wide and 250 px tall.
Google My Business Cover Photo Size
The cover photo can be anything relating to your business such as the logo, shop front or products. The ratio of the cover photo should be 16:9 with a minimum resolution of 480 px wide and 270 px tall. Again it should be in the format of JPG or PNG with a file size between 10 KB and 5 MB.
Google My Business Photo Size
Any photo relating to your business can be added as a business photo to the gmb listing. Similar to the logo sizes, images must be in the format of JPG or PNG and a file size between 10 KB and 5 MB. The recommended minimum resolution is 250 px wide and 250 px tall, but images can be any size.
How To Google My Business: Tips & Tricks
Optimizing a Google My Business listing is very important and following all the guidelines to set it up can certainly help customers choose your business rather than a competitor. Apart from optimizing a listing, other tricks relating to Google's business services can help accelerate your business towards more success. The following tips and tricks below outline other ways to ensure GMB can compliment your business' goals and answer some of the most common questions.
How To Make Google My Homepage?
The benefits of making Google the homepage include having easy access to your GMB profile. This helps any business owner keep track of their business with all the Google tabs available for easy access to crucial information. Each internet browser has different methods to set Google as your homepage. In the settings section of your browser select the homepage settings under tabs such as "Appearance", "Open new windows with" or "Set your homepage" for some examples. Enter https://www.google.com/ in this section and you will all be set up.
How To Find A Google My Business URL?
Go to https://business.google.com/ and log in
Click on the info tab on the left hand side
If your business is live on Google, click on "Share your Business Profile" on the right hand side
Copy the link to copy the URL of your Google My Business profile
It is important to find your GMB listing URL because it makes the process of sharing it much easier. This can help when you want to share the URL to customers when asking for Google reviews. AddMe Reviews helps with the process of asking customers for reviews and managing your reviews in one simple to use dashboard.
How To Edit My Business On Google?
Go to https://business.google.com and log in
Click on the info tab on the left hand side
Change any of the public information that is new or has changed about your business
It is important to be able to edit your business as sometimes vital information does change. Some of these very important changes may include when a business has changed their phone number or has a new address.
How Do I Change My Business Hours On Google?
When editing your business, changing the business hours is probably the most important piece of information that potential customers will look at. It is vital to ensure that these accurately reflect the opening times of your business. The changes are done in the same way via the 'Info' tab at https://business.google.com. Editing your business hours could be validated on public holidays where hours might be different or the business might be shut. In 2020 the need for businesses to shut down has caused Google to create special hours including business 'COVID-19' hours. Below are some more 'special hours' settings that can be added to any business profile to show customers more specific times for certain events.
How To Add My Business To Google Maps?
It is very important for your business to be represented on Google Maps if the business has a physical location such as a local shop. This enables customers to come and visit your location by simply looking at the directions on the map. Sometimes a business does not appear in the maps search and this fix is simple. You would simply need to verify your business for it to appear, which may take a while to happen due to the current delays. The postcard verification method (which is the most common) has huge delays as a result of COVID-19, so this might take longer than normal to add a business to Google Maps .
How To Delete A Google My Business Listing?
Go to

https://business.google.com

and log in

Click on the info tab on the left hand side

On the right of the screen navigate to 'Close this business on Google'

Click 'Mark as temporarily closed' or 'Mark as permanently closed' as appropriate
If your business no longer exists for one reason or another, it is important to remove the GMB listing so customers no longer seek or contact you for your products or services. This can be done by deleting the entire profile or changing the business to 'temporarily closed' or 'permanently closed'. This should not be confused with being able to delete Google Reviews because this process is not as simple as deleting the profile.
Why Is GMB Important For My Business?
Google My Business is an important feature that all business owners should become familiar with. As 92% of people use Google to search online, it is important that your business is represented fairly with all the correct information. Whether it be the opening hours, phone number or address, GMB is one of the first points of reference for many customers. GMB is helpful to optimize search results for your business to give consumers all the information they need to choose your products or services. It is also extremely beneficial to stimulate business reviews which is one of the most important factors about a business online.
Generating online reviews through Google is vital for social proof and is a great way to showcase how great your business is. It provides customers a compelling argument to choose your business over any competitor if you have positive reviews. Asking your customers for reviews is the best way to stimulate positive business reviews. Word of mouth marketing is one of the most cost effective marketing tools any business can use.
AddMe Reviews makes the entire review generation & management process simple. The power of positive customer reviews can help drive more sales and stimulate business growth. Sign up for a 14 day trial below to see how positive business reviews can help your business today.