Asking for customer reviews can be a great way to boost your business online ahead of your competitors by giving you more sales and customers. 68% of customers will leave a review if they're asked to do so. Requesting customers for reviews is a great way to ensure your online reviews are improved, which can lead to so many more benefits for your business. However, competition is tough so having clever ways to ask for reviews can help your review requests convert at a higher rate than your competitors.
Table Of Contents
How to Ask For Google Reviews From Your Customers
Google Reviews are the most popular form on online reviews for businesses. Google is not primarily a review site but is where most customers check first before making a purchase decision. Asking customers for reviews can greatly improve your Google Business Profile in many ways. This can lead to more sales and more customers as a results of higher visibility in search results, and ranking in the local 3 pack.
Learning how to ask for a Google Review or from other sources is one of the most beneficial, but simple tasks your business can complete. Below are some of the most clever ways to ask for reviews with examples to help any business start collecting more online reviews today.
1. Send SMS Review Requests to Customers
Sending text message review requests is an easy way to boost your online presence by gaining more positive reviews from satisfied customers. Research shows that 90% of text messages are read within 3 minutes, which is far quicker than any email open rate time. Consumers will find it easier to type out a review from their mobile device through their text messages rather than on email via their computer.
Sending review requests to your customers can only be done by gaining their permission to do so. This authorisation is usually gained from a customer making a purchase or signing up to your mailing list. Your business should have a terms and conditions page that outlines these permissions for current and potential customers to become familiar with.
2. Send Targeted Post Sale Review Request Emails
One of the best things you can do to ensure you receive positive reviews is to request them promptly with a follow-up email. After a sale, people tend to be most satisfied if their expectations are met. These happy customers are likely to give something back to you in the form of a positive review if your business has been great for them.
If you're product or service requires time for customers to spend time with it then you're still in position to receive a review. Email your customer again after a set time period and ask them how they're doing with your product or service. If they seem happy with your service, send them a personal email about leaving a positive online review. See the example below outlining ow best to go about sending a targeted post sale email.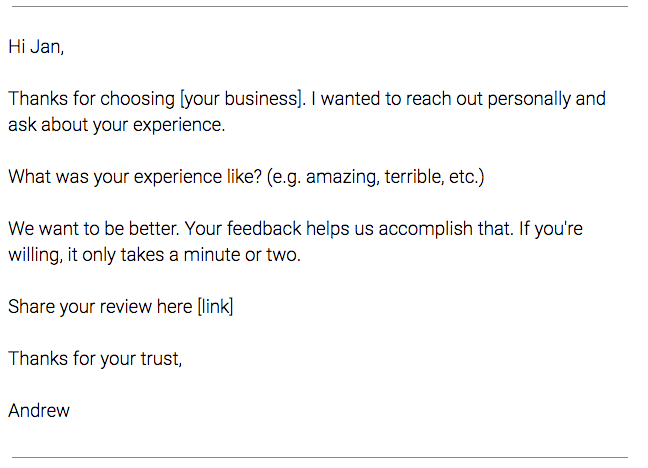 3. Give Customers a Call Asking for Feedback
A quick phone call is an effective method to obtain more positive online reviews as it can lead to positive conversations about your business. A phone call can establish customer feedback that is both positive and negative, which can help guide your business forward. This conversation can lead to asking to leave a positive online review about your business, which a lot of the time can lead to a 5-star rating.
This method depends on your type of business and the product or service that is offered. A software company is a great example of this, whereas a local restaurant with customer contact details may not be the best place. See below for a quick example about asking for feedback via a phone call.
4. Use a Review Management Solution to Request Customer Reviews
An all in one review management platform can be a clever way to manage your reviews easily. Streamlining the review collection process leads to a stronger overall reviews profile which is a huge influence towards prospective customers. AddMe Reviews works with business owners and managers to improve their online reviews as part of their online business strategy. AddMe helps maximise positive customer reviews and mitigate any negative reviews received.
Sending review requests using a tool like AddMe Reviews can greatly benefit your business' online reputation as the review collection process is streamlined. Our request reviews feature is simple to use and is just one of many features that businesses use to get more online and Google reviews. Click the button below to receive a trial of AddMe Reviews and see how the power of online reviews can benefit your business today.
5. Ask for a Video Testimonial
There are many people who much prefer to make a recording or video then to write a review for a business. Writing can be a boring chore, but videos are much more enticing in the digital age even if it is a less utilised method for online reviews. Potential and current customers who see video testimonials and reviews may be more persuaded to do business with you as they may normally ignore standard written reviews.
There are many companies that use video testimonials for advertising purposes and displayed across their digital channels. Customers these days like to watch video content as evident by the rise of TikTok. Video can be an extremely effective method to capture attention of customer's and especially for UGC customer reviews content. Detailed reviews from customers can be a great and unique way to capture the attention of any potential customers.
6. Get In-Depth Feedback With an Interview
Asking your loyal customers to complete an interview, survey, or questionnaire can be a distinctive way to ask your customers for a review. It is important to ask for customer stories which include both positive and negative feedback. When customers feel they can influence service or product offerings, they're more likely to offer both positive feedback and share negative experiences.
This detailed information can then be condensed into a simple review which can be posted by the customer. It can also be created into a full transcript or video to be publicly displayed to help show off a high level of customer satisfaction. Some example interview questions may include asking about thoughts on customer service, products, services offered, and even pricing.
7. Ask for Reviews via Social Media
Social media can provide great reach to your current customers as many of them are likely already following your online social media profiles. You can make a post which encourages customers to share their feedback via an online review. Provide a link to your desired review collection site to make it easier for your customers to leave a positive review.
You can also post text or an image of a review, which may give customers a gentle reminder that they can leave a review for your business too. Our AddMe Reviews social sharing feature does this process for you. Here are some examples of content you can post to your social media to motivate customers to leave a positive review online.
– How did we do? Review us today. LINK
– Share your experience. Leave us a review below and let us know how we're doing. LINK
– Had a great experience with our brand? Share a review by following the below link. LINK
8. Ask for Reviews in Person
Get more customer reviews by simply asking your customers in person for them. This is often forgotten about as a strategy because customer reviews are an online process, whereas this is an offline strategy. You can ask customers for reviews in-person by seeing if they have had a positive experience in your store. This is then an opportunity to ask them to leave a review online through one of your online review profiles.
If your customers are generally satisfied with your services, they will very likely tell you so. Ask for reviews if an opportunity arises, but don't be pushy when an opportunity presents itself. Make it easier for customers to leave a review by providing a QR code in-store for customers to scan that takes them straight to your Google Business Profile reviews page. Even more reviews tactics are listed in our guide to getting more Google Reviews.
Learning How to Ask for Reviews Is Important for Success
Sending review requests to your customers can be an opportunity to improve your online reviews profile. Asking your customers for online reviews is often an under-utilised tactic, however can form an effective part of any customer journey. Online reviews can lead to improved sales and customers coming to your business as a result of your improved reputation online.
Improve your online reviews for your business with AddMe Reviews. Our tools enable your business to effectively send review requests, manage incoming reviews, and much more. Start a trial by following the link below.