For new and used car dealers, the market has never been more complicated. That being said, the two things most automotive dealers agree on is that profitable growth is critical and customers are in control. And yet, good business principles combined with the internet has the power to turn some of these challenges into opportunities and return some of the control to the dealerships. One such opportunity is in Customer Reviews.
Growth Through Customer Retention
Customer service is critical to automotive dealer retention strategies for many reasons.
Margins – New vs Used vs Servicing

: Margins on vehicle sales range from approximate 2-3% for new vehicles and 10-12% for used vehicles. Over 50% of revenues come from servicing vehicles.

Customer Retention

: 60%+ of dealers say customer retention is the key to profitability. Acquiring a new customer can cost upward of $600 per sale, making new customers 10 times more expensive than retaining customers.

Lifetime Customer Value

: A retained customer may result in up to $50K in lifetime customer value when combining vehicle purchases, service, repairs and referrals. Research suggests that a 1% increase in retention rates can lead to an additional $150K a year in revenue per dealership.
Customer Experience & Reputation Management
Did you know that 50%+ of consumers will pay more from a dealership with a reputation for providing a better customer experience? 80%+ of automotive customers said their experience with automotive dealer service departments influenced their likelihood of buying another vehicle. Post-sale customer experience is a huge opportunity for automotive dealers. 91% of dealers recognise service experience is more important than repairs when it comes to customer retention and profitability. And yet, dealer systems and tools often lag behind business needs. 80%+ of dealers acknowledge their business systems fail to provide a superior existing customer experience. Like repairing cars, you need the right tools for the job.
Much of this post-sale activity is online. Most customers access dealers via the website, with 22% of web customers accessing the website and booking service after hours. Beyond test drives and booking repairs and services, customers are posting questions and reviews.This is where the overlap occurs. The internet is increasingly the common space between the experience of past and current customers and prospective customers. Managing reviews is good for sales, as much as it is good for customer retention.
Customer Service & The Youth Factor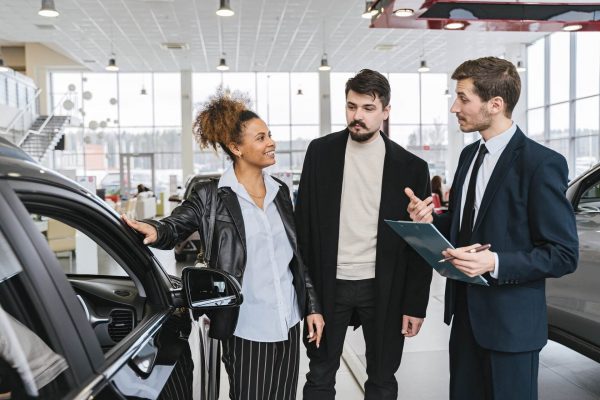 Millennials now account for 40%+ of vehicle sales. This has doubled since 2011. Appealing to these younger markets requires a different focus. Forward-thinking dealers are adapting.
For Millennial car buyers, customer experience is the key differentiator. Younger buyers believe customer experience is 3 times more important than vehicle design. Millennials will compromise on features over customer experience.And these young buyers are not only prepared to compromise on features, but 54% of vehicle buyers will also compromise on price and willingly pay more from a dealership with a better customer experience.
The challenge for automotive dealers wanting to capitalise on this growing market segment is to maximise their customer service and make it visible.
The Power Of Customer Reviews For Automotive
The visibility of customer service comes from online reviews. Customers write reviews for a variety of reasons, and businesses are empowered to manage aspects of this.
Automotive is one of the most important industries for reviews. The industries in which consumers are most likely to have read reviews prior to engaging a business:
Hospitality
Hotels
Healthcare
Automotive
Clothing stores
As well as being an important source of information for prospective automotive customers, reviews and their responses times matter. The top 10 automotive dealerships respond faster and get a 10% boost in their star reviews for their efforts.
Industry Leaders vs Industry Average: Response Time /days vs Average Star Ratings of Reviews
Importantly, you as the dealer need to know that you can take control of your online reviews.Dealerships can delight the customer and build strong relationship management practices across the business. It's about the power of moments. Lots of little positive experiences lead to an overwhelming sense of customer satisfaction.What do automotive customers want? Invariably it comes down to a balance of value, convenience, trust, and quality.
These are the elements that customer reviews are often critical in communicating, and 91% of 18-34-year-olds trust online reviews as much as personal recommendations. 93% of consumers say that online reviews have influenced their purchase decisions.
91% of 18-34-year-olds trust online reviews as much as personal recommendations (Source)
What Can Automotive Dealers Do To Make The Most Of Customer Reviews?
While it's not simple, there is a formula automotive dealers can follow to grow their businesses using online reviews.
Customer Service Focused Culture

: Make sure you create a strong culture of customer service. Allocate resources and responsibilities to ensure this is a core business focus linked to customer retention.

Millennial Growth Opportunity: Understand that millennials and younger car buyers are a growing buyer segment and their behaviour is heavily online. Appealing to their habits including extended hours, using SMS, chatting over the phone, email etc. will increase the perception of customer focus.
Manage Online Customer Reviews: Take control of your customer reviews and online reputation management by using the right tools for the job (such as AddMe Reviews). Customer reviews are a nexus for new and existing customers which can be actively managed using the right methods and tools.
For more information about how Google Reviews can elevate your business read our Guide to Growing Your Google Reviews. Don't let your auto competitors collect more positive reviews and get ahead with their online reviews. Click the link below to see AddMe Reviews in action with a comprehensive 14 day trial.